Home

/

Step Ladders & Bridges
Step Ladders & Bridges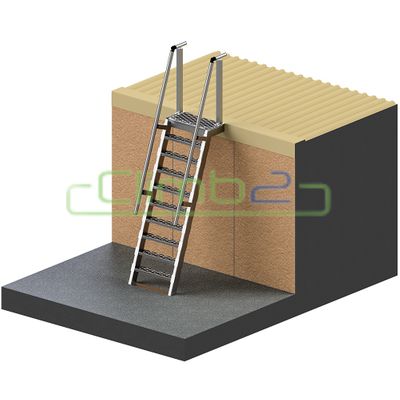 Step-Type Ladders, Step-Type Ladders with Entry Platforms, and Modular Step-Type Bridges by Climb2
Elevate your safety standards with Climb2's versatile ladder solutions. Our range includes Step-Type Ladders, Step-Type Ladders with Entry Platforms, and Modular Step-Type Bridges. These cutting-edge systems make it simple and secure to reach elevated areas for inspections, maintenance, or other service needs. Our ladders are meticulously crafted to instill confidence and safety among maintenance teams.
Features:
Precision-Engineered Design: Each Climb2 ladder is profiled for heightened safety, ensuring steady climbs and descents.

Modular Convenience: Our proprietary modular system allows for a variety of configurations, including optional fall-arrest mechanisms based on the height and application of the ladder.

High-Quality Materials: Crafted from industrial-grade aluminum, our ladders combine robust strength with an ergonomic, non-slip design, all while being lightweight.

Easy Assembly: The prefabricated modular components require no welding, making on-site assembly a breeze.

Connect2 Vertical Lifeline: For extra security, this can be seamlessly integrated into our vertical ladders, offering consistent fall protection.

Compliance and Warranty: Climb2 ladders not only meet but exceed all mandatory regulations and codes. Plus, we offer a 10-year warranty for peace of mind.

Custom Solutions: Our experienced Designers and Engineers will collaborate with architects, builders, and facility managers to tailor a ladder system that fits your specific project requirements.

Ready Stock: Thanks to our agile modular design, all components are stock-ready and can be dispatched immediately for installation by our skilled technicians.
How to Order a Modular Step-Type Bridge:
Select Your Bridge Length:
MB801: Climb2 Modular Bridge Platform 900mm
MB802: Climb2 Modular Bridge Platform 1200mm
MB803: Climb2 Modular Bridge Platform 1500mm
MB804: Climb2 Modular Bridge Platform 1800mm
Choose Ladders for Both Sides:
Options range from 300mm to 6000mm:
Select one ladder for each side of the platform to complete your custom modular bridge system. Feel free to consult our experts for tailored advice.
Climb2's line of ladders and bridges are designed to make your elevated workspaces as safe and accessible as possible. With our innovative designs and customizable options, you'll find the perfect fit for your project's needs.