Home

/

PPE, Rescue & Fall Prevention Products
PPE, Rescue & Fall Prevention Products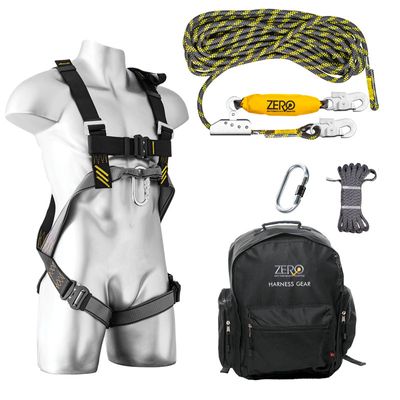 PPE, Rescue & Fall Prevention Products by Safemaster: Your Complete Safety Ecosystem
When it comes to high-risk tasks, especially in elevated environments, safeguarding your personnel is not a responsibility to be taken lightly. That's why Safemaster offers a comprehensive suite of Personal Protective Equipment (PPE), Rescue Gear, and Fall Prevention Products, designed to ensure that every safety need is met in the most effective manner possible.
Key Features:
Personal Protective Equipment (PPE): Our range of PPE includes industry-standard safety harnesses, helmets, gloves, and eyewear to shield against potential hazards. All PPE products are manufactured to meet or exceed regulatory standards.

Rescue Gear: Equip your team with state-of-the-art rescue kits, evacuation systems, and emergency descent devices. When the unforeseen happens, our rescue gear provides quick and safe retrieval solutions.

Fall Prevention Products: From self-retracting lifelines to energy-absorbing lanyards, our fall prevention solutions are engineered to reduce risk and minimize impact forces during a fall.

Fall Prevention Equipment: A must for any high-risk activity, this range of products, including safety harnesses, ropelines, and energy-absorbing lanyards, integrates seamlessly with our anchor and lifeline systems for a complete safety solution.
Compliance and Testing:
Safemaster's PPE, Rescue, and Fall Prevention products comply with all current regulations and safety standards, ensuring that you not only meet but exceed legal requirements for workplace safety.
Customization and Compatibility:
Our safety products can be combined to create a customized, comprehensive safety system. We can also integrate our PPE and Fall Prevention products with existing safety systems, ensuring compatibility and maximizing safety performance.
Service Excellence:
Expert Guidance: Our team of Designers and Engineers is available to provide a tailored safety solution to meet your specific project requirements.

Nationwide Support: Our Specialist Technicians are located nationwide for quick dispatch and reliable installation or training.

Extensive Range: Alongside these core products, Safemaster offers a variety of complementary safety solutions to ensure every aspect of your operational safety is covered.
For complete peace of mind in any high-risk environment, choose Safemaster's PPE, Rescue, and Fall Prevention Products. Your safety is our highest priority, and we are committed to providing solutions that are as robust as they are comprehensive.