Home

/

Walkway & Handrail Systems
Walkway & Handrail Systems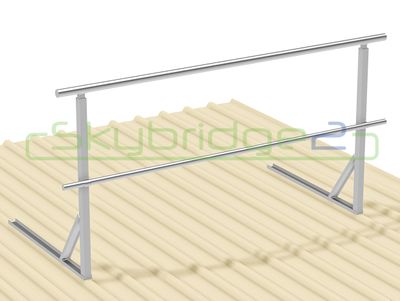 Aluminium & FRP Walkway & Handrail Systems by Safemaster: Navigating Safety with Precision and Durability
In industrial and commercial settings, ease of movement and safety often go hand in hand. Safemaster's range of Aluminium and Fibre-Reinforced Polymer (FRP) Walkway and Handrail Systems is meticulously designed to optimize both. Engineered for strength and durability, these systems offer safe and efficient navigation across a variety of work environments.
Key Features:
Material Excellence: Our walkways are constructed from high-grade aluminium and FRP, ensuring durability, corrosion resistance, and minimal maintenance. These materials are selected to withstand harsh weather conditions and heavy foot traffic.

Versatile Design: With options for both straight and curved layouts, our walkways and handrails can be customized to fit your specific space requirements and architectural constraints.

Safety-First Approach: Non-slip surfaces, sturdy handrails, and a robust anchoring system collectively make these walkways one of the safest options for elevated or ground-level movement.

Legislative Compliance: All our Walkway and Handrail Systems are designed and tested to meet current legal and safety standards, ensuring maximum protection for your workforce.
Custom Solutions:
Modular Design: The modular nature of our systems allows for quick and easy installation, as well as scalability for future expansion.

Tailored to You: Our expert Designers and Engineers will work closely with you to develop a solution that meets your project's specific needs.
Installation and Support:
Nationwide Installation: Our Specialist Technicians are spread across the country, enabling swift, professional installation services.

Comprehensive Guidance: We provide in-depth manuals and on-site training options to ensure that your team is fully equipped to use our systems safely.
Additional Options:
Integrated Solutions: Our walkways and handrails can be integrated with other Safemaster products like anchor systems and lifelines, offering you a seamless safety ecosystem.
For a walkway and handrail system that puts safety, durability, and ease-of-use at the forefront, look no further than Safemaster's Aluminium and FRP options. We are committed to delivering comprehensive, reliable solutions for all your workplace safety needs.