Staircases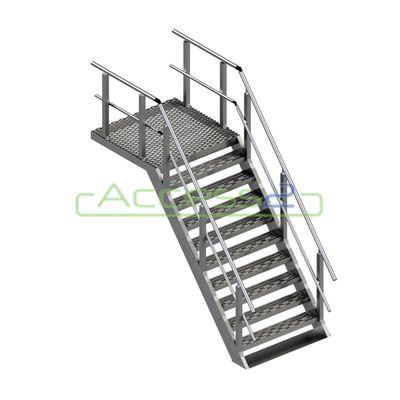 Step2 by Safemaster: The Future of Modular Aluminium Stair Systems
Step up your access solutions with Step2 by Safemaster, a pioneering brand in modular aluminum stair systems. Whether you're looking to connect multiple levels within a commercial space or seeking a robust solution for industrial applications, Step2 offers the ultimate blend of safety, functionality, and aesthetic appeal.
Key Features:
Modular Innovation: At the core of our brand is a commitment to modularity. Our stair systems are designed to be versatile, easily adapting to a wide range of architectural layouts and design needs.

Premium Aluminium Build: Crafted from industrial-grade aluminum, our stair systems combine strength and durability with a lightweight construction, making installation a breeze while providing long-lasting performance.

Safety-Centric Design: Our stairs are engineered to not just meet, but exceed all relevant safety standards. Anti-slip surfaces, sturdy railings, and precision-engineered angles contribute to a secure and comfortable ascent and descent.
Additional Benefits:
Quick Installation: The modular nature of Step2 stairs allows for rapid on-site assembly with minimal disruption to your operations. Each component is prefabricated for hassle-free installation.

Aesthetically Pleasing: With a focus on modern design, Step2 staircases offer a sleek, contemporary look that complements any environment without compromising on safety.

Compliance and Warranty: Rest easy knowing that all Step2 systems comply with mandatory regulations and industry standards. For added peace of mind, our products come with a comprehensive warranty.
Service Highlights:
Customized Solutions: Our specialized team of Designers and Engineers works in close partnership with architects, builders, and facility managers to deliver a stair system that fits seamlessly into your project.

Ready When You Are: We keep a broad inventory of staircase components on hand, allowing for quick dispatch to our nationwide network of Specialist Technicians, who are prepared to complete installation promptly and professionally.
Make a lasting impression while ensuring unparalleled safety with Step2 by Safemaster, the name you can trust for state-of-the-art modular aluminium stair systems.